This article explains how to set up the ability to copy data from the Crew or Vessel profile into a form instance.
This function will allow an end user to select a crew member or vessel from a drop down within a form instance, which will then paste data from the profile directly into form fields. 
Please Note: A link is not created between the form and profile, it will just copy what data is in the profile to the form once. If the profile changes then the form will need to be edited to update the information!
To set this up navigate to the form builder of the form template you wish to edit by going to 'Manuals, Forms & Checklists' – 'Manage Form Templates and Profiles'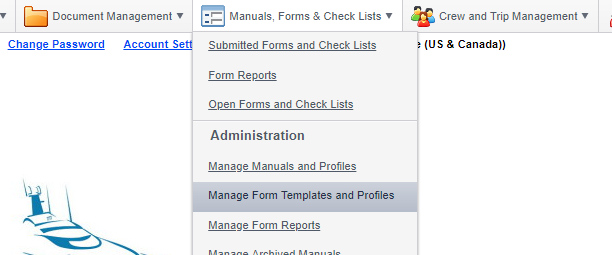 Clicking the 'edit form template' button for the relevant form template and then click 'use Form Builder'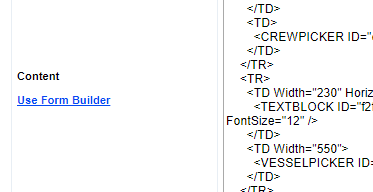 For this particular example we will look at copying the crew members position and Date of Birth from their profile into the form:

To begin you will have to have the 'Crew Picker' tool somewhere within the form, as highlighted above. For Vessel data you will require the Vessel Picker tool instead.
You will also need the relevant tool entered into the form to receive the data too. As an example in the position field we need a 'Text Box' as the data will be a line of text. For the Date of Birth we will need a 'Date Picker' as the data will be a date.
Once you have all the fields entered click on the receiving field (Text Box or Date Picker), and then right click on the Crew Picker (or Vessel Picker for Vessel Data) and click 'Auto Fill Selected Control'

Repeat this process for any other fields you wish to link. Multiple fields can be linked to a single Crew or Vessel Picker.
Once you have linked all the relevent fields click submit to save your work in the form builder and then click 'Submit and Check In'
Pro Tip:  It is recommended to put a note within the form to explain to the end user that data will be copied into the form, and also that if they wish to update the data they will need to edit the form and reselect the crew member from the list.
They can do this by clicking either another crewmember or --Select One-- and then selecting the crew member again.