This article describes the process to set up the verification process for an individual document, and also set up triggers and automations in relation to the verification status.
For information about verifying a document please click here
To add document verification to a VMD or CMD, from the fleet account page go to 'Document Management' - 'Manage Vessel Mandatory Documents' OR 'Manage Crew Mandatory Documents' and click the edit icon for the relevant document: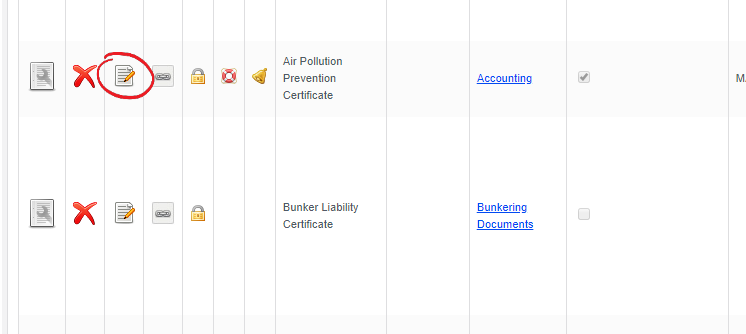 When the page loads select the 'Enable Document Verification' checkbox and then click 'Submit':

Setting Permissions for who can approved a document
Once you have selected a document for the verification process you will need to define who can approve it. This is achieved by editing the permissions of the document or profile as explained here
If the document is part of a profile you will need to amend the permissions for the whole profile. If there are other documents within the profile that do not have the verification enabled they will ignore this permission.
Setting Triggers relating to Verification
Creating a trigger against a document or profile is explained here 
As with permissions if the document is part of a profile you will apply the trigger to the whole profile, but documents that do not have verification enabled will ignore this trigger.