Just as we can do with Documents, you can also create Custom inventory Views. These views are designed by the end user and very helpful to see any inventory that is getting low.
To create a new view, from the menu go to 'Equipment & Inventory' - 'Inventory & Spares - Folder View'

Click on the folder, and sub folders, that you want the view to apply to and then click 'New View'

Pro Tip: To run a report on all inventory click the Inventory main folder at the top of the folder structure.
Enter the title of the view and then add some conditions. You can add as many conditions as you like relating to inventory, and can also compare quantity columns as shown below:

Once you have set your conditions you can then set which columns will appear on the report and their order. As an example i have created some conditions to show inventory that are at or below the minimum required, but that also have at least one piece on order. I have then reordered the columns to only show the information i require in the report. 
You can click, hold and drag each column title to reorder it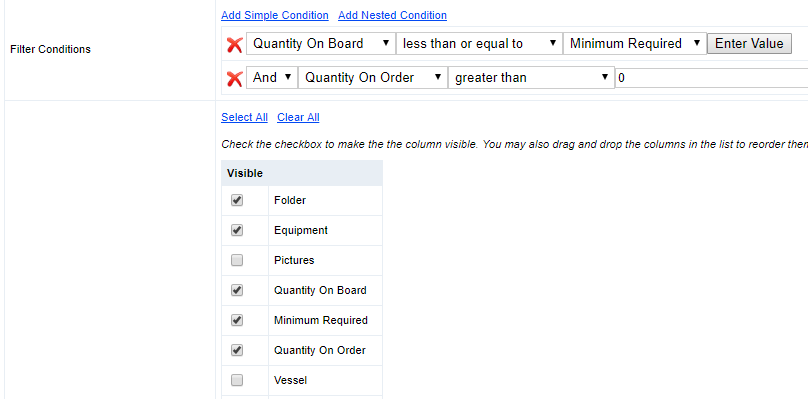 Finally you can set sorting and grouping by clicking on the column you want to group and sort by.
On complete click 'Submit'