To view the existing equInventory on the system, from the menu go to 'Equipment & Inventory' - 'Inventory & Spares - Folder View'

To see all Inventory on the system click the 'show all items in subfolders' checkbox. This checkbox will show all inventory in the folder you have selected along with any sub folders.

To narrow down the the list of visible inventory click on any sub folder. 
You can also search for Inventory by clicking the search button at the top of the page. This works best when you have selected the 'Inventory' main folder on the left hand side and clicked show all items in sub folders.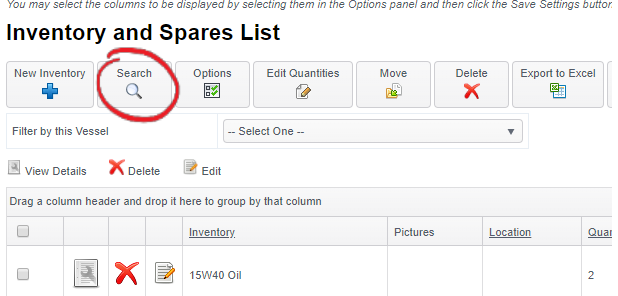 You can learn more about a piece of equipment by clicking the view details icon where you will be able to see any linked documents, completed tasks and incomplete tasks linked to this equipment, any linked inventory, its hour log and its planned maintenance schedule.