Once you have created a piece of equipment you will then need to create a planned maintenance schedule to notify you when maintenance needs to occur onboard. 
To add a planned maintenance schedule find the piece of equipment you want, as described here, and click the view details icon.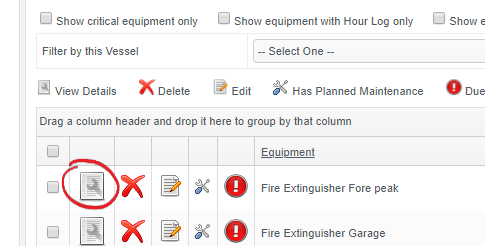 You will then need to select the Planned Maintenace Schedule tab and click 'New Planned Maintenance Schedule'.

When creating a PM schedule you have 3 options for how the task reoccurs:
Recurrence based on the hour log
Recurrence based on days passed
A combination of hour log and days passed
Pro Tip: If your piece of equipment has the hour log enabled we would strongly recommend you always use a combination of hour log and days passed. This not only means you have a back up should you not use the equipment for a while, but you will also be able to complete tasks early should you need to.
You now need to enter details about the PM schedule: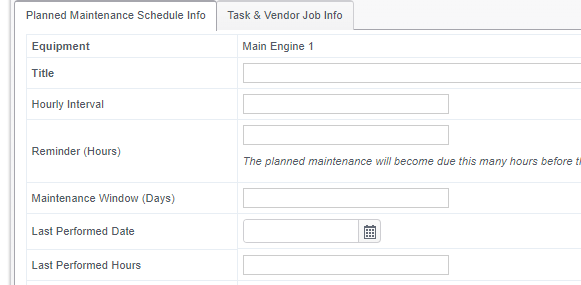 Title - Title of the task, such as 100 hour service
Hourly Interval - If the hour log is selected this option will appear and is the interval between tasks. As an example an interval of 100 hours will mean that a new task is generated 100 hours after the last one was completed
Reminder (Hours) - This will add a short period and make the task become due X hours before. As an example if you enter a reminder of 5 hours on a interval of 100 hours, the system will bring the task up when the hours reaches 95 hours.
Maintenance Window (Days) - This option will add an interval period in days between tasks. As an example a window of 30 days means the next task will become due 30 days after the last one was marked as complete
Last Performed Date - This is the date the task was last performed. If it hassnt been performed yet just enter todays date
Last Performed Hours - This is the hour log record for when this was last completed. If it hasnt been completed yet, put 0 hours
Pro Tip: As we mentioned above you can enter both an hourly interval and maintenance window for a single task. As an example you can put an interval of 100 hours and a window of 30 days. This means the system will track both the days passed and the hours entered and will make the task due as soon as 1 is reached.
You also have the option to designate who the task is assigned to, along with any inventory that is used. To do this click the 'Task & Vendor Job Info' tab:

You can now assign the task to a user role, such as a Chief Engineer, and also define any inventory that you want to be used. To link inventory click the Select Inventories by Folder button.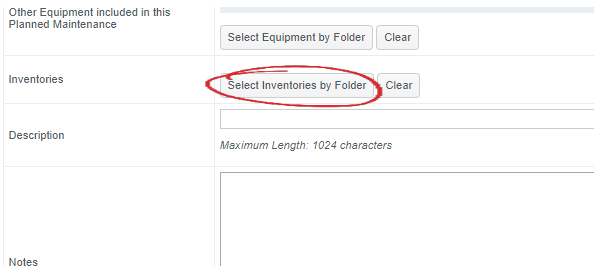 You can then search through any inventory you have entered, select it and click submit. You can then define the typical quantity you want to use each time. Please note this can be modified for each task instance, so just enter the average.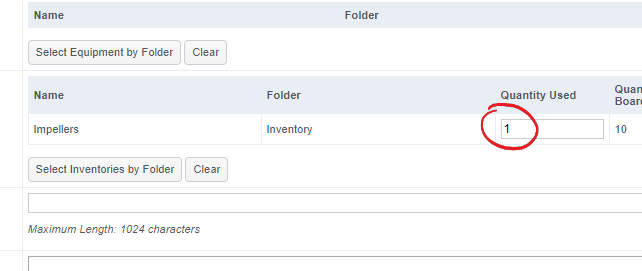 Once all these have been set click 'Submit'