This section of the guide will give you a brief overview of the crew list and will show you how to create a crew profile.
When you log into a vessel account you will have 3 options to view the crew list:
Active Crew List (grouped by status) - A list of all crew who are currently active on the system sorted by their Status (Permanent Crew, On Vacation, Medical Leave, etc)
Active Crew List (grouped by position ID) - A list of all crew who are currently active on the system sorted by their Position ID (An ID that can be assigned to each crewmember at the vessel level)
All Crew List - A List of all crew who have been entered onto the system, including current active crew.

For day to day us we would recommend you use the 'Active Crew List (grouped by Status) menu as it groups all crew into logical tabs and doesn't include crew who are no longer onboard the vessel. All Crew will be grouped by status and then sorted by Last Name.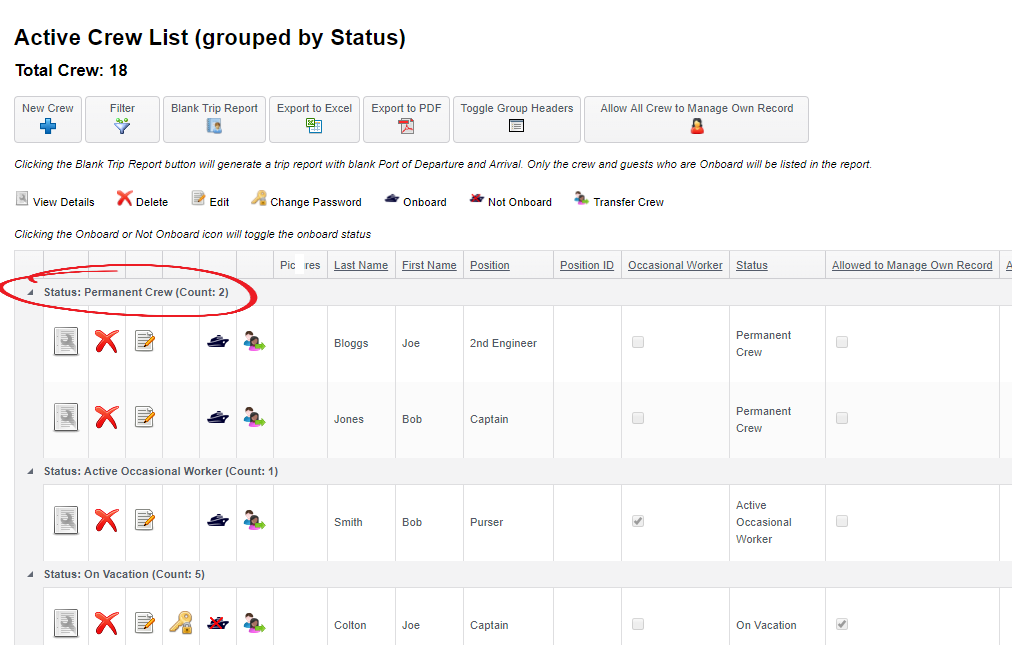 Pro Tip: You can easily change a crew members status by clicking the small ship icon, selecting the new status and clicking submit. It is quicker and easier than editing the crewmembers profile each time.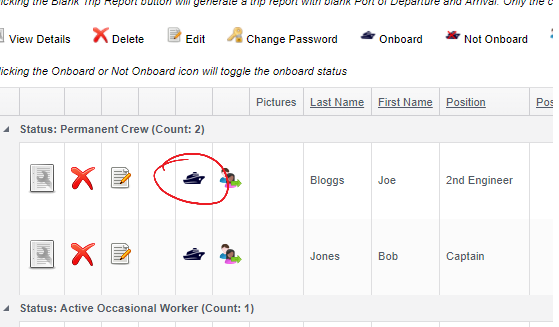 Creating a New Crew Profile
To create a new profile go to the Active Crew List and click the 'New Crew' Button.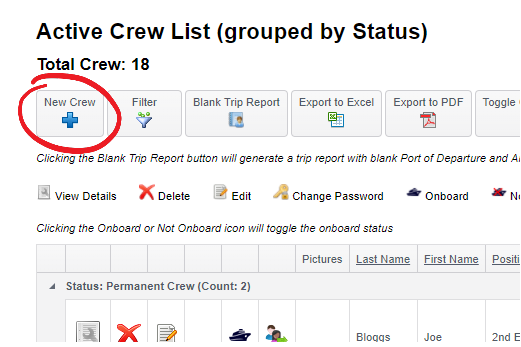 You will then be able to enter information about the crew member which is split into the following tabs:
General Information
Passports & Visas
Employment info
Medical Info
Next of Kin
Financial
Most of the fields are general text boxes or date pickers, however we have provided more information about certain important fields below:
Allowed to Manage Own Crew Record - This checkbox will allow the crewmember to view and edit their crew profile and documents. Your system administrator is able to restrict permissions on each field within the profile and each crew document, so we would advise you contact your system administrator before turning on this option. You will have to enter an email address to enable this feature.
General Information - Occasional Worker - This checkbox will allow you to designate this person as an occasional worker. Enabling this will change their status to 'Active Occasional Worker', turn off Time Sheets for this person, disallow access to manage their own record, and only enable Crew documents relevant to occasional workers.
This should only be used for personnel, working on an occasional and short-term basis, who's work is not part of the routine business of the ship. 
Passports & Visas - Date of Issue & Expiry - Whilst these fields work normally if you only enter information about each passport and visa, if you link a related document to them then you will not be able to edit these fields from the crew profile. To edit these fields you will need to edit the related document. 
The reason for this is to ensure the dates are consistent across the system and the dates you enter on the document are exactly the same elsewhere.
Once you have entered all the information you have, click 'Submit' at the top of the page. For the time being please disregard 'Submit and Create User' as this is covered elsewhere in the guide.
Viewing and Editing a Crew Profile
Now that you have created a crew profile you will be returned to the main Active Crew List page. To edit the crew profile again click the edit button and you will be able to update the crew profile in the same way as shown above. 
If you would like to view more information without editing the crew profile, click the 'View Details' icon next to the crew member.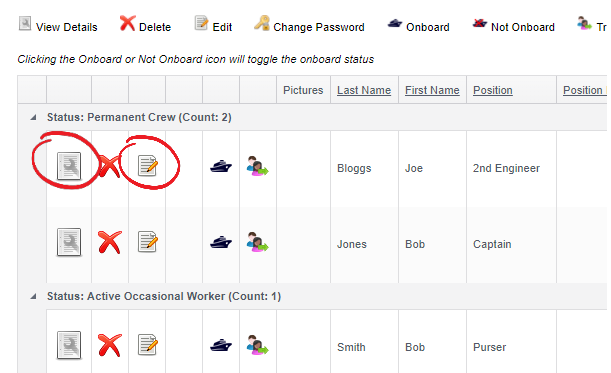 The view details page shows you the crew members profile information that has been entered, alongside any documents that have been linked and also a history of any changes that have been made to the profile. From this page you are able to return to the main Crew List or edit the profile by clicking 'Edit' at the top of the page.