You have two options available to you for accessing Forms, 'Forms & Checklists' and 'Open Forms & Checklists'. Both menu options work in exactly the same way however the 'Open Forms & Checklists' menu will only show open forms. For the purposes of this guide we will use 'Forms & Checklists' however it will apply to both menu items. 
Until you are more familiar with the system MMV would recommend you use 'Forms & Checklists' to view forms as it will contain all forms on the portal, ensuring none are missed.
Pro Tip: as you use the system 'Open Forms & Checklists' becomes a very valuable tool to easily see which critical forms, such as incidents and defects, need action.
Viewing Forms
To view a form go to 'Forms' - 'Forms & Checklists'. This page will provide a table and will show all forms that have been created for this vessel. 

If you cant find the form you need you can further filter them by category or by a specific form template, and also by clicking the 'filter' button, selecting your filters and clicking 'Apply'.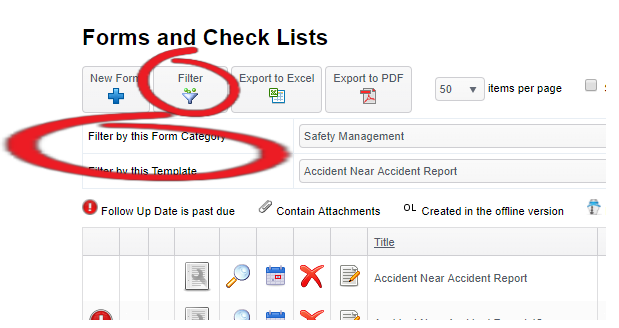 Once you find the form you would like to view, click the 'View' icon next to the form.

Pro Tip: You can see more details about the form and also previous version by clicking the 'View Details' button just to the left of the view icon.