This section of the guide explains how to manage all settings related to a trip.
For information about creating, editing or closing a Trip, please see the crew section of this guide.
To Manage the settings of a Trip, from the Fleet account page go to 'Crew and Trip Management' - 'Manage Trip Settings'

You will then see a page with 4 tabs:
Alerts
Forms
Permissions
Guest Settings
Alerts
This tab will allow you to set an alert to notify user roles whenever a Trip is created or modified. This alert will only fire if a trip is first created, or if the details about the trip (such as departure date) are amended. The alert will not fire if crew and/or guests are added or removed. 
To create the alert click on the Alerts tab and then 'Create Trip New/Updated Alert'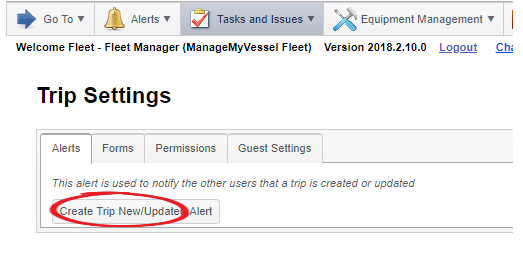 You will then be able to set an alert as shown here.
Forms
This tab will allow you to link a form template to a trip. You are able to specify whether the form is required, such as a passage plan, and whether you will allow multiple forms to be linked to a single trip. 
To do this click on the Forms Tab and then 'Edit Settings'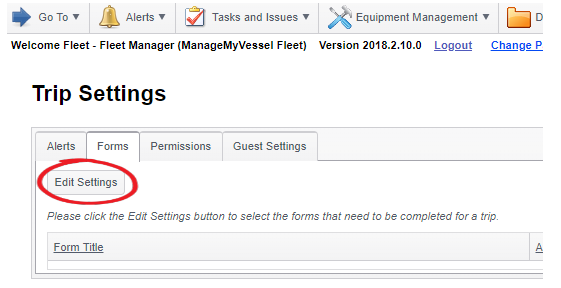 You will then be able to select whether the form can be linked to a Trip, whether it is required, and whether multiples are allowed. Once set up click 'Submit'

Permissions
You are able to set permissions as to who can read, edit, delete and close Trips. To do this click the Permissions tab and then 'Edit Permissions'. You can then set permissions as shown here.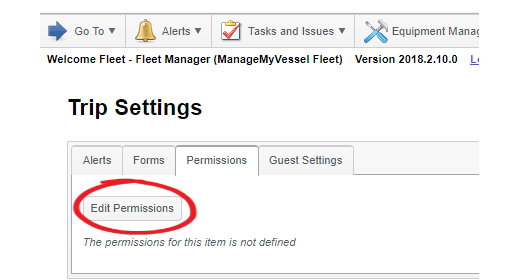 Guest Settings
This setting will define whether every guest you enter on the system will be required to have their date of birth entered. This is recommended so our system can automatically define adults, children and infants in a IMO guest list. 
To amend this setting click the Guest Settings tab, click the setting on or off, and then click 'Save Settings'.