A crew employment status is a way to group crew into categories to easily see whether they are onboard, on leave, etc.
A status on a crewmember can also have other effects in the system, such as whether they are automatically added to a new trip.
To see all existing status' from the fleet account page click 'Crew and Trip Management' – 'Manage Crew Settings' and select 'Crew Employment Status' from the left hand window.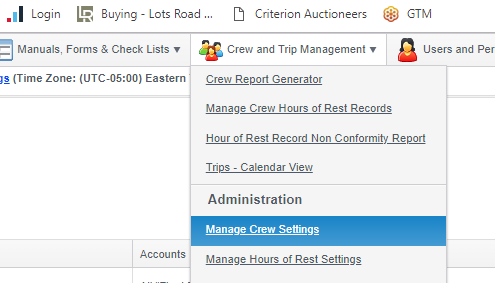 This page shows you all crew employment status's on the system. From here you can add new, edit existing, or delete.
Please note: You cannot delete system defined statuses, shown by the small cog icon.
Creating a New Status
To create a new status click the 'New Status' button at the top of the page.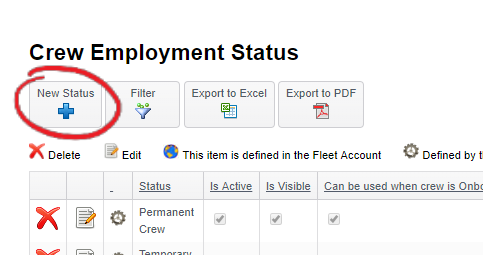 You will then be able to enter a status name, such as seasonal crew, and can check some or all of the following checkboxes:
Is Active – This is to be used to define whether the status is for currently employed crew (checked), or for crew who are no longer involved in the vessel (unchecked)
Can be used when crew is Onboard? – This is used to define whether this status can be used when the crew is marked as onboard (checked).
Can be used when crew is not Onboard? – This is the opposite to the above point and should be checked when this status can be used when crew are marked as not onboard.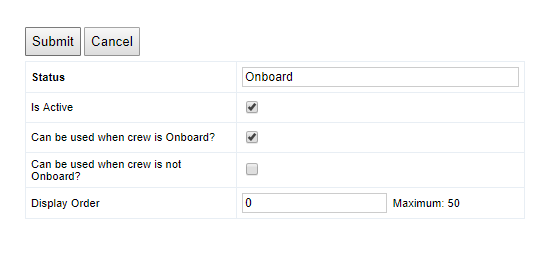 Pro Tip: We would recommend you only select one checkbox between 'can be used when onboard' and 'can be used when not onboard'. This makes it very easy to see in the Crew list who is onboard your vessel and who isn't.
Finally you can select the display order in relation to the other status's. Once set click 'Submit' which will return you to the main page.
Editing an Existing Status
To edit an existing status click the 'edit' icon next to the corresponding status.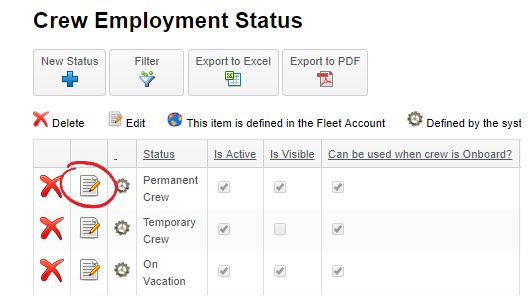 You can then amend the fields and checkboxes as described above. Click 'Submit' to save the changes and return to the main page.
Please note: You will be able to edit certain fields within the system defined status's, but not the display order or title. You can also make the system defined status's not visible, allowing maximum flexibility.
Deleting a Status
You can delete a status by clicking the delete icon. You can only delete non system defined status's and you will only be able to delete a status if it is not being used by a crew profile.