Once you have set the permissions as shown in the previous section you can then enable crew access onboard.
Before you enable crew access you will first have to link the existing users on the vessel to their crew profiles. This is important as it will mean exiting users will be able to manage their own records without needed two logins. To do this go to the vessel account 'System Administration' – 'Users'.

Next to each existing user there is an icon called 'Link or Unlink from a crew' and you will need to click this for each crewmember, select the corresponding crew profile and click 'Submit'.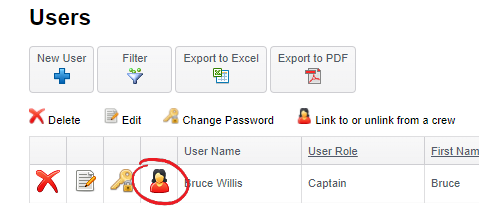 Once this has been completed for each user you are now able to enable crew access. To do this go to 'Trip, Crew & Guest' – 'Active Crew List'

At the top of the page click the button called 'Allow all crew to Manage Own Record' and follow the instructions in the pop up. Upon doing this an email will be sent out to each crewmember's primary email welcoming them to the system and providing their username and password.

Please note: If a primary email address hasn't been entered then the crewmembers password will have to be manually reset by a system administrator and then sent to the crewmember securely.
If an email hasn't been received please ask the crewmember to check their spam filters.
Changing a crewmembers Password
If a crewmember cannot find their welcome email, or have forgotten their password, you may need to reset it for them. For security reasons we are unable to access crewmembers current passwords so they will need to be reset.
To do this go to the vessel account and go to 'Trip, Crew & Guest' – 'Active Crew List'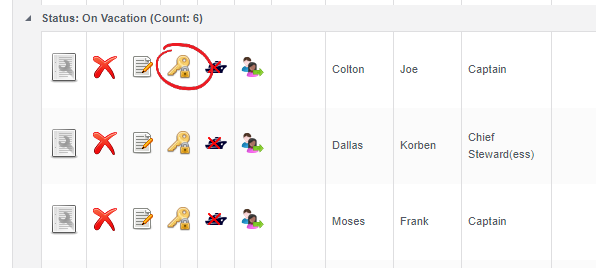 You will then be able to click the 'Change Password' icon, enter a new password and click submit. Upon clicking submit an email will be sent to the crewmembers primary email address notifying them of the change.