This section of the guide will show you how to set up and modify the crew access settings to control what they can read/edit/delete within their crew profile.
This section does not explain how to enable the hours of rest module. For information about how to do this please click here
Before you give crewmembers crew access to manage their own record you should review the below settings to ensure they are suitable.
Crew Profile Settings
To view and edit the permissions for the crew profile content go to 'Crew and Trip Management' – 'Manage Crew Settings' and click on 'Personal Profile Permissions' in the left window.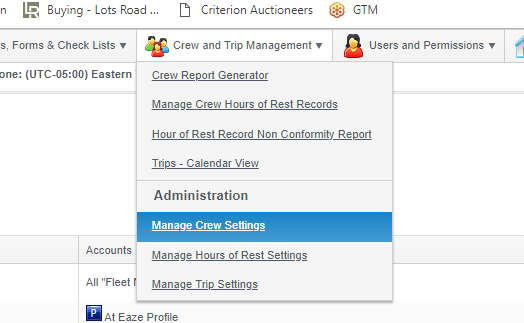 This tab will give you an overview of the current settings for each field in the crew profile. For each field you have the following options:
Editable 
Editable (required)
Read only
Not visible
To modify these permissions click the 'Edit' button, modify the settings as you see fit and then click 'Submit'. When you click submit the settings will be applied to all accounts and users with crew access.
You are also able to create overrides for individual accounts. 
Crew Mandatory Document Settings
In addition to the crew profile settings you can also add read/edit/delete permissions to each Crew Mandatory Document within the system.
To do this you will need to edit the permissions of each Crew Mandatory Document and each Profile, which is covered here.
Please note: By default all Crew Mandatory Documents are set to allow crew to read and edit each CMD, but not allow them to delete.