This section of the guide will show you how to create and manage the folder structure for Crew documents, equipment documents, inventory documents and general documents. This does not cover vessel mandatory document folders or crew mandatory document folders.
To manage the non-mandatory document folders go to 'Document Management' - 'Manage Document Folders for Sub Accounts'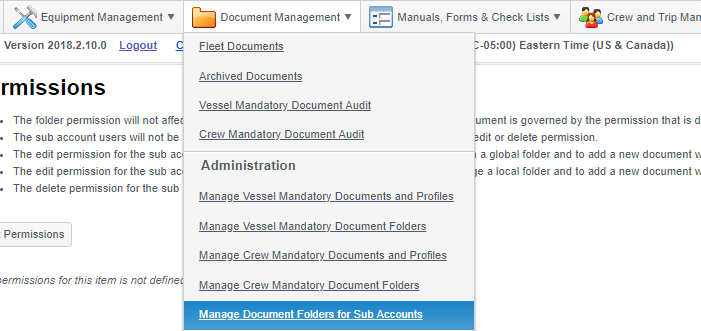 You will see on the left side of the screen 4 root folders, one for each type of document. These are fixed by MMV and cannot be edited, although you can set permissions on them. Each root folder works in exactly the same way so follow the below steps for each one to add any sub folders or set permissions. 
Creating a Sub Folder
To create a sub folder click on one of the root folders and then click the 'Add Folder' icon at the top of the page. You will then be able to enter the title and finally click 'Submit' to save the folder.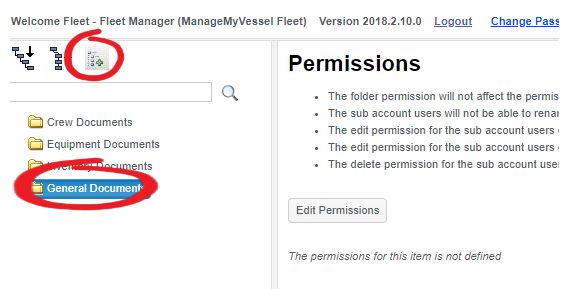 Pro Tip: You can add several layers of sub folders to this structure, for example a sub folder title 'Drawings' and then 'Technical',  and 'Safety' as sub folders to that. Doing this will allow more options for custom views for day to day users.
Setting Folder permissions
For each folder you are able to set permissions against them. The permissions on a folder will not affect the actual documents themselves, but only who can alter the folder structure.
The root folders and any folders created at Fleet level cannot be edited by vessel users, regardless of the permissions set.
If you allow a vessel user role to edit a root folder or Fleet level folder they will be able to add and edit vessel specific sub folders to it and also add documents to that folder. 
To set the permissions for a folder, click on it and then click Edit permissions. You will then be able to set the permissions as required.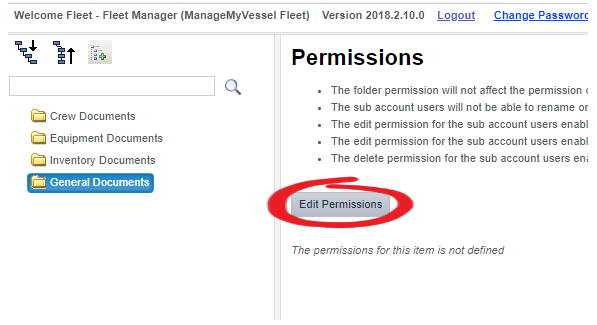 Once set click Submit