This section of the guide will show you how to create the Crew Mandatory Document (CMD)Folder Structure, how to create CMD profiles, and how to add CMD templates. 
You are also able to create your own custom views within these folders. Please see elsewhere in this guide for information on how to set them up.
Creating the CMD Folder Structure
From the fleet account page click 'Document Management' - Manage Crew Mandatory Documents'
You will then see a simple folder structure on the left side of the page. Click on the 'Crew Mandatory Documents' root folder and then click the 'Add folder' icon at the top of the menu. You will then be able to enter the title and finally click 'Submit' to save the folder.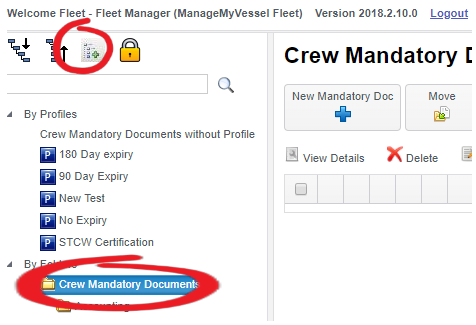 Pro Tip: You can add several layers of sub folders to this structure, for example a sub folder title 'Certificates' and then 'COC',  and 'Medical' as sub folders to that. Doing this will allow more options for custom views for day to day users.
Once you have created a folder you can then set permissions against it. These permissions will only apply to Fleet Users and is designed so that you can allow various departments or employees to add new CMD's in certain folders but not others, or restrict access entirely to administrators.
To set the permissions on a folder click the padlock icon show below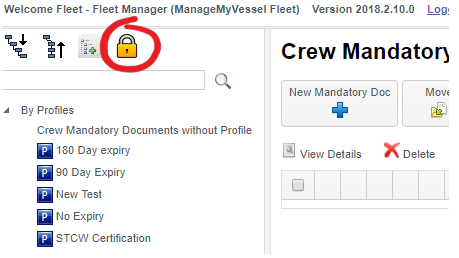 You will then be able to set permissions to allow a user to edit the folder structure and documents within, delete the folder structure and documents within, and also manage permissions to change these settings. Once you have set yoru permissions click 'Submit'.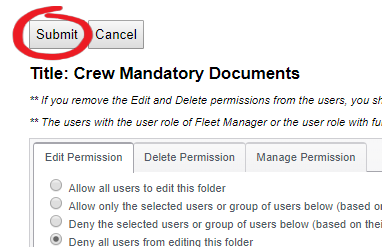 Pro Tip: We would strongly advise you set permissions on the top level 'Crew Mandatory Documents' folder so that only administrators can amend the contents. This will stop other users from being able to add new sub folders and otherwise amend your folder structure.
Creating CMD Profiles
Before you start adding CMD templates to the system we would strongly encourage you to set up profiles beforehand. Profiles are an easy way to group documents with the same alerts and permissions together to save you time should you need to amend them. Instead of editing each individual template you can just edit the profile and all templates under it will be updated.
To create a profile you can stay on the same page mentioned above or go to 'Document Management' - 'Manage Crew Mandatory Documents and Profiles'.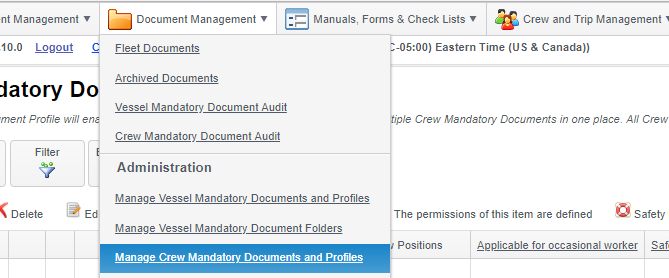 Pro Tip: Both menu options bring you to the same place, however will highlight the appropriate folders or profiles depending on which menu you clicked. This is designed to save you time both when first coming to the page and also in administering your system.
Click on the 'Cessel Mandatory Documents without Profile', if not already highlighted and then click the blue create profile icon shown below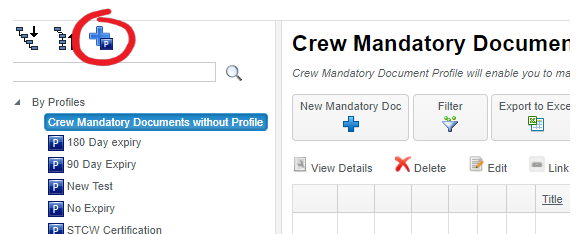 Enter the profile title and maximum expiry reminder and then click 'Submit and View Detail'. Expiry reminders are the period before a document expires when you want to be alerted to that fact. This number is set in days, so for example you want to know 180 days before your COC expires.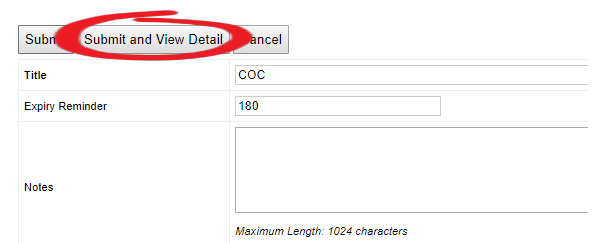 You will now be able to create alerts and set permissions for this profile. For CMD's you can create a missing alert, one or more expiration alerts, and a new updated alert. These alerts are created in the same way as elsewhere in the system and are covered in more detail elsewhere in this guide.
Once you have created the alerts and set your permissions click 'Return to Main View'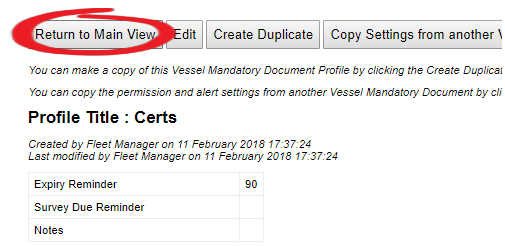 Creating CMD Templates
Now that you  have a folder structure and profiles in place you can now add CMD templates. CMD templates impose a requirement on a vessel to have this document on their portal. This process does not upload the actual document but it does create the need to have it, and will require the vessel to add the document within their vessel account.
To create a CMD template click on the profile you would like to take its settings from and click the 'New Mandatory Doc' icon. By clicking on the profile first you will ensure that this CMD will adopt all of the alerts and permissions you have previously set.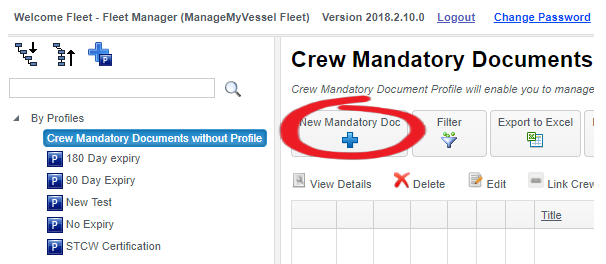 You will then be able to enter the following details about the template:
Template Title e.g Certificate of Registry
If it is related to Safety Management and its category
The Folder it will go in from the folder structure
The Display order relating to other CMD's
The vessel accounts it will apply to
Which Crew positions it will apply to
Whether it is linked to a form template
Setting which crew positions a CMD applies to is very important as it will save time for vessel users when they start uploading their documents. By only having what is required for each crew position, rather than all CMD's, it will stop crewmembers asking Captains and your employees's for guidance.
Pro Tip: You are able to link form templates to CMD's in this way to create a requirement for a form to be completed and also remind users that this form needs to be updated. An example of this may be a Crew Appraisal so that you know it is completed and can then set an expiry date and be alerted when a new apprasial needs to be undertaken
Once you have entered all of the above data click 'Submit'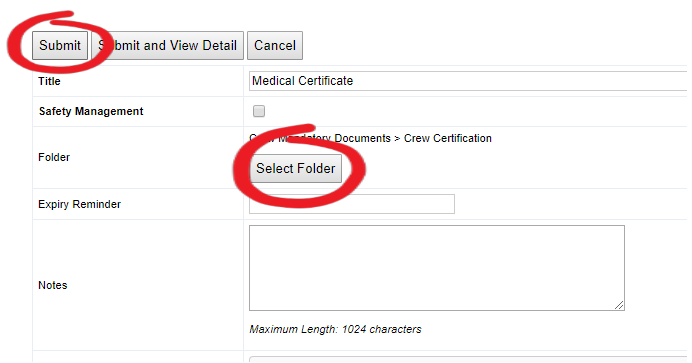 You will then be taken back to the main page where you can add more templates.