This section of the guide will explain how to create your Fleet Document folder structure. set permissions against it, and then explain how to add Fleet Documents to it. 
Your are also able to create your own custom views within these folders. Please see elsewhere in this guide for information on how to set them up.
Creating the Folder Structure
From the fleet account page click 'Document Management' - 'Fleet Documents'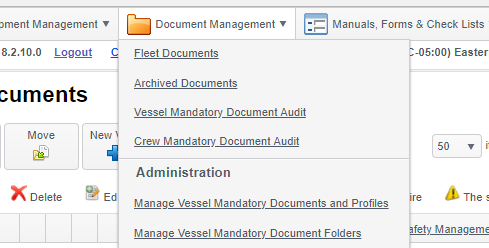 You will then see a simple folder structure on the left side of the page. You as an administrator will be able to add sub folders to the main 'Fleet Documents' folder. To do this, click on the main folder and then click the add folder icon shown below. You will then be able to title the folder and submit it.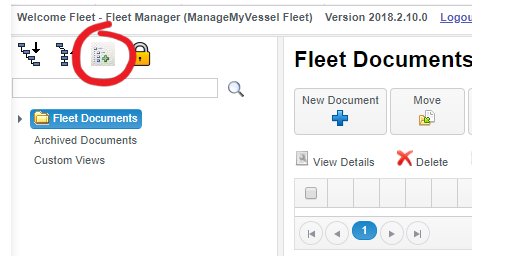 Pro Tip: You can add several layers of sub folders to this structure, for example a sub folder title 'Circulars' and then 'Safety', 'Crew', and 'Security' as sub folders to that. Doing this will allow more options for custom views for day to day users.
Once you have created a folder you can then set permissions against it. These permissions will only apply to Fleet Users and is designed so that you can allow various departments or employees to add new Fleet Documents in certain folders but not others. 
To set the permissions on a folder click the padlock icon show below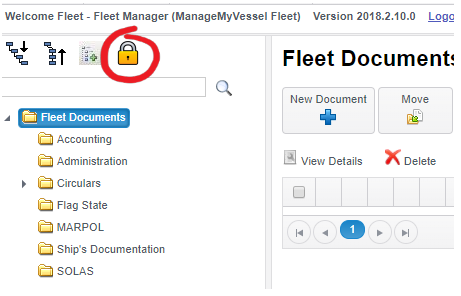 You will then be able to set permissions to allow a user to edit the folder structure and documents within, delete the folder structure and documents within, and also manage permissions to change these settings. Once you have set yoru permissions click 'Submit'.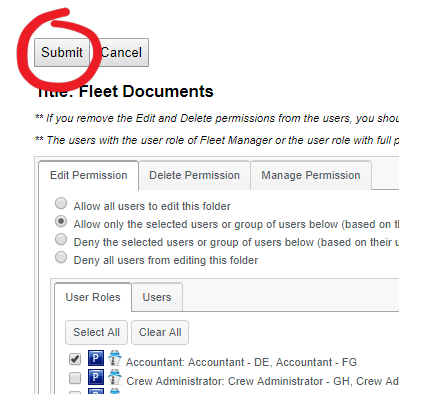 Pro Tip: We would strongly advise you set permissions on the top level 'Fleet Documents' folder so that only administrators can amend the contents. This will stop other users from being able to add new sub folders and otherwise amend your folder structure.
Creating Fleet Documents
Now that you have a folder structure in place you will need to add your Fleet Documents. To do this navigate to the correct folder and click 'New Document'.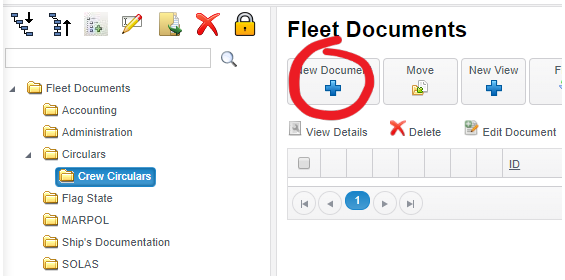 You can then title the document, add issue, expiry and survey dates, attach the actual document, and select which vessels it will apply to. There is no limit on the size or number of attachments. You can also add an expiry or survey reminder so you can then be alerted in good time to review and update the document.
Once you have set the fields click 'Submit and Check In' and then 'Check In and View Detail' when a pop up appears.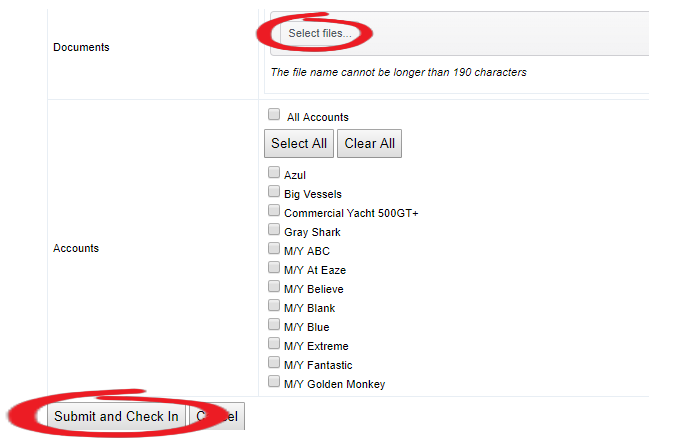 The final and most crucial stage in the process is to now set your alerts and permissions for this document. When the page loads click the 'New/Updated Alert' tab at the bottom of the page and click 'Create New/Updated Alert'.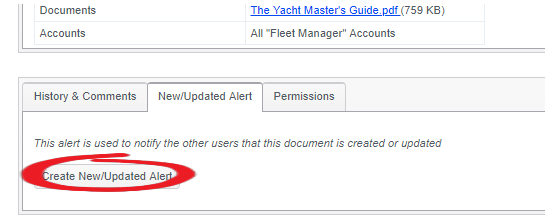 You will then be able to create a New/Updated Alert as normal by selecting the applicable user roles and whether an email is sent out. This is important as you will need to alert your employees and crew about the new documents existence. 
Once you have created the alert, click the 'Permissions' tab and then 'Edit permissions'. This will then allow you to set who can read the document for your crew, and who can read/edit/delete for fleet users. Setting permissions here is exactly the same as how you would elsewhere in the system.
Editing an Existing Fleet Document
To edit an existing Fleet Document click the 'Edit Document' icon next to the Document. You will then be able to amend the dates and attachments as necessary.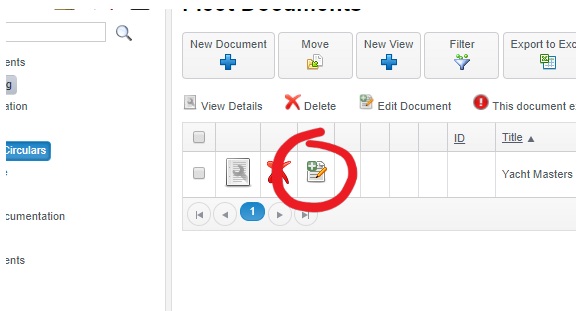 Once you have amended the fields, click 'Submit and Check In' and then 'Check In' on the pop up. Please note that if you have a New/Updated Alert set on this Document an alert will be generated and sent to the applicable users when you click 'Submit and Check In'