This section of the guide shows how you can view and search manuals that have been applied to a particular sub account. For an overview of Manuals are and what they may contain please click here. 
For information about creating and updating manuals please click here and here.
When a manual is created it will be assigned a category, and when a manual is assigned to a vessel the category of the manual will be added to the sub account menu. 
To view all manuals under a particular category click 'Manuals' and then the category you would like to view.
To expand a Manual and view its contents click the small + icon next to the Manual you would like to view, and to view a specific section click the underlined title.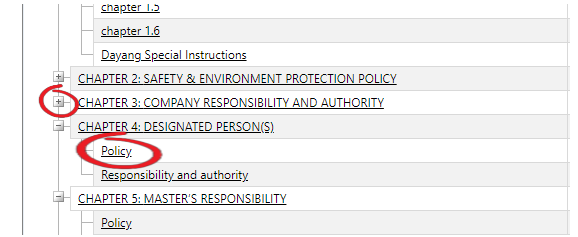 Pro Tip: Whilst viewing a section of a manual you can move to the next section by click the 'next' icon at the top of the page. You can also move back a section by clicking 'back'. This saves you having to return to the main contents page each time.