When you first log into a sub account home page you will see a selection of tiles. These tiles provide snapshots of various parts of the system, such as document alerts requiring your attention.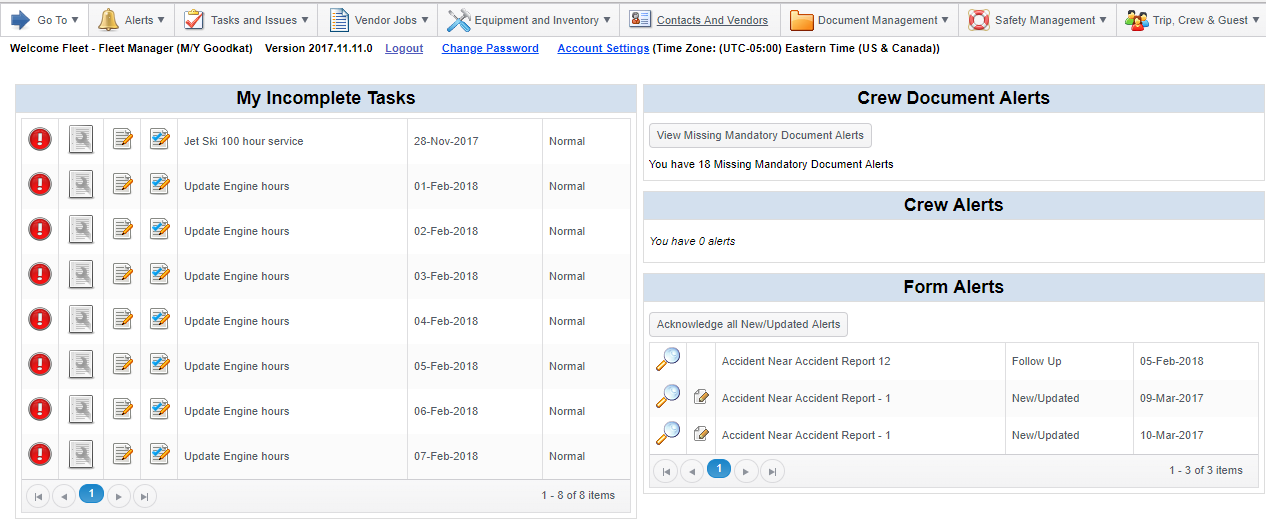 Your user may not have access to all available tiles, and each user role may have access to a different set of tiles. This is entirely customisable by your company administrator so if you would like your homepage to be amended, contact your administrator.
The contents of each particular tile are defined elsewhere in the system, and a explanation of each tile will be covered further in this guide, however for clarification the contents of each tile will be specifically for you to deal with, such as a document that is expiring.
The following tiles are currently available in your portal:
My Incomplete Tasks
My Time sheet Information (Crew only)
Crew Document Alerts
Trip Calendar
Unsigned Time Sheets
Crew Alerts
Trip Alerts
Missing/Incomplete Time Sheets
Form Alerts
Captain Information (configurable)
Reminders
Announcements
Vessel Mandatory Document Alerts
Manual Alerts
Company Logo and Offline URL
Links
Past Due Vendor Jobs
Vessel Information (configurable)
Task Alerts
Other Document Alerts
Offline Sync Alerts
Form Report x4 (configurable)
Message box x4 (configurable)
Fleet User Information (configurable)