This section will show you how to run a report to see particular details about your fleet of vessels. This is useful if you need to see a particular detail for your whole fleet, such as Gross Tonnage or LOA, or to identify a range of vessels within the search criteria.
For more information about updating vessel details please click here
To run a vessel report go to 'System Administration' - 'Vessel Report Generator'

You can then set the following optional filters to modify the report:
Vessel selector
Description
Flag State
Registration type
Gross Tonnage range
LOA range
Types of management
MLC/ISM/ISPS Compliance
MSMD holder
When you have set any filters, click apply to view the report.
You can then modify the report by selecting the visible columns. To do this click the 'Options' button, select the required columns and click save settings.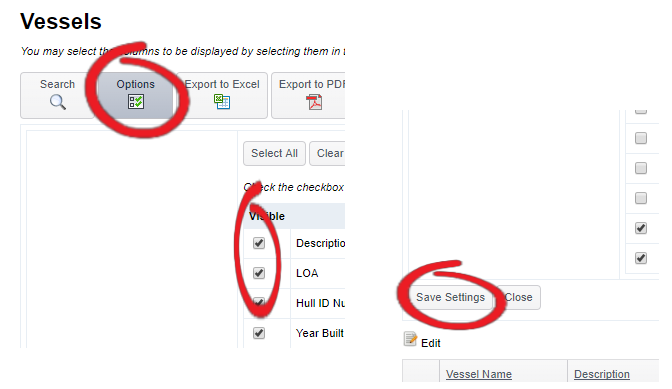 Pro Tip: You can rearrange the columns by clicking on the column title, LOA or Year Built for example, and dragging and dropping elsewhere in the list. Once done click save settings.