Manage My Vessel has a time sheet module which complies with the MLC provisions. This section will show you how to create a report to identify any non-conformities (NC's) which have been generated when crewmembers enter their hours of rest.
To learn about how to turn Time sheets on please click here.
To learn how to create and submit a time sheet please click here.
A time sheet NC report is a very useful tool to both quickly see any NC's that have been created in the current or past month and also to generate fleet wide statistics over a long period to see data trends. 
To run a time sheet report go to 'Crew and Trip Management' - 'Time Sheet Non Conformity Report'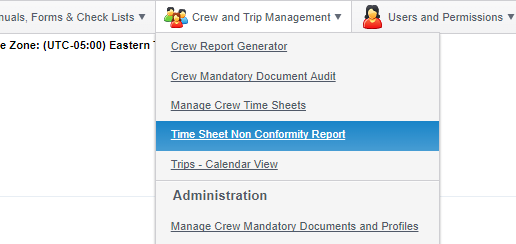 You will then have the following filters to apply:
Date Range
Vessels
Crew member first name or last name
Crew Position
Select the filters you need and then click 'Apply'