Whenever you first login to the system you will directed to the fleet account page:
On this page are two main features on this page, the Reminder window and the List of vessels:
Reminder Window
This window gives you a brief overview of the alerts that have been assigned to you to deal with. You can get more details about each individual alert by clicking on the 'View' button next to the alerts.
You can also see the latest release notes which explains the new features and updates we have implemented.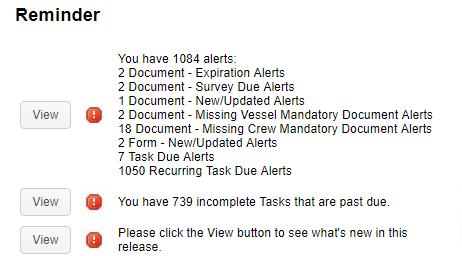 List of Vessels
The list of vessels at the bottom of the page shows all of the vessels that have been assigned to you. You are able to login to each individual vessel by clicking the 'login' button and can also view some basic information about each vessel by clicking the blue 'Vessels' icon and the 'View details' icon.