Management companies should set offline Sync Due Alerts in order to notify them whenever a vessel has not synced for a certain period of time.
Alerts can be set by the management company to alert certain users or user roles whenever a sync has not occurred over a specified number of days on any vessels within the management companies account.
This is useful to ensure that offline versions onboard individual vessels are being synchronized and thus updated to the Management companies online portal on a regular basis .
Offline Sync History and Settings
The Offline Sync history and settings notifies fleet administrators about the status of hteir vessels who have Offline installed.  Vessels with Offline installation are allowed to use the software on their vessels server or dedicated computer.  The Offline version allows users to use MMV when there is little or no internet connection on their vessel.  The Offline Sync and setting lets administrators know when the last time their offline synced so all their information that was created or edited Offline is available for online view.  Administrators may also set alerts to be notified when a vessel does not sync.
Administrators may view if their vessels have synced by going to the Offline Sync History and Settings.  To access this, click on System Administration, then select Offline Sync History and Settings.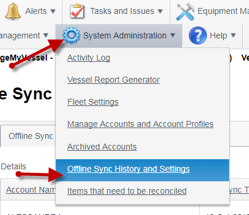 The History tab will let administrators know when the last time their vessel with Offline installation synced with the online version of Manage My Vessel.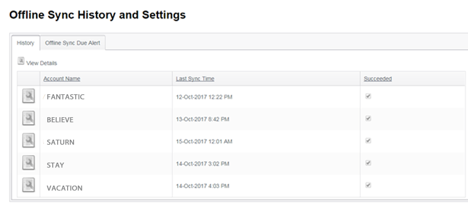 To set the Offline Alert, Click on the Offline Sync Due Alert Tab.

Click on the Create Offline Sync Due Alert.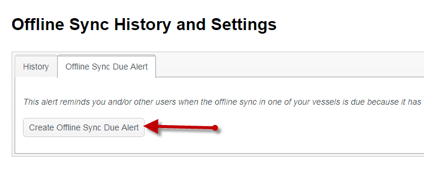 Enter how many days you want to pass before the alert becomes due.
Decide if selected users will also receive an email notification.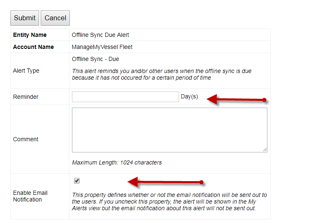 Decide which user or user roles will receive notifications when a vessel has not synced.
Click Submit when finished.